I used to be afraid to go to other designer and consultant websites. Terrified that I would find content way better, smarter, and faster. Sure I'd want to go crawl under a rock when I saw the amount of comments, following, and skills.
In other words, I was insecure.
Does it sound familiar?
Human beings by nature are competitive and insecure. There is nothing more intimidating than someone who shows up to a wedding in the same outfit you have on. Comparisons are inevitable and we are always afraid we'll lose.
But it's time to stop worrying about the competition to your business in the form of other freelancers. Do you want to know why?
Because what you think is your competition…
is not.
In fact, these other freelancers may be your biggest allies on the web. We're turning potential business friends and networks into enemies in our head.
The truth is, your competition is…
Grey's Anatomy
Big huge corporate companies like Parenting, Time, ABC, etc.
Apple's latest gadget
Social media time sucks like Facebook and Twitter
Time & money are your biggest obstacles. People have only 24 hours in a day and so much buck in their bank, and there are lots of products and entertainment that have us convinced we NEED it to live. That is where your true competition lies in wait…to steal time & money from people who could be better spent…why…investing in your services!
But the market is saturated with information and freelancers," you worry…
In the world of online biz, it's easy to think that EVERYONE does it. And a lot of people do. But if you step away from your computer and go into the real world, you'll quickly realize that there are quite a few people who don't do what we do. Maybe you feel like the web is saturated with freelancers and information, but it's because you spend the majority of time here. Other people don't (gasp! I know). Don't believe me? Go to the grocery store and interview the first 50 people that exit. Come back and tell me what you find.
I used to get so tired of my own writing and marketing, and the sites I continually perused. I started to think that nothing was ever new and the world didn't need my voice & skills because there were 1000 others that were better than me.

You realize that a mindset like that is the same as deciding not to open up a bookstore in Connecticut because there are 10,000 in California?
It is possible you haven't defined your mission or niche well enough to make your mark on the Internet, but that's a different problem. If you have done your homework and are marketing with laser precision and strategy, there is room for you here. People will hire you. Like old time businesses, you'll own your corner of the neighborhood and won't worry about the site that is 10,000 miles away preaching the same thing.
But my niche is already taken," freelancers worry…
I have a question for you. What do you think authors do when they sit down to pen a novel? Is there possibly ANY story on the planet that hasn't been told yet? Probably not. That could be a real killjoy. I guess no one should ever write a book again huh? But the characters, the humans behind the words…that is always going to be unique.
We tell our kids every person is unique like a snowflake. Authors understand this concept and know that if they can tell a story and make you feel connected to the protagonist, it doesn't matter how many times the story has been told in other forms…you will read it.
Freelancers, take note. YOU are your brand. That is ultimately what gives you a shot at this gig more than anything else…what you bring to your biz. Don't try to be anything other than yourself, which means you have to like yourself first.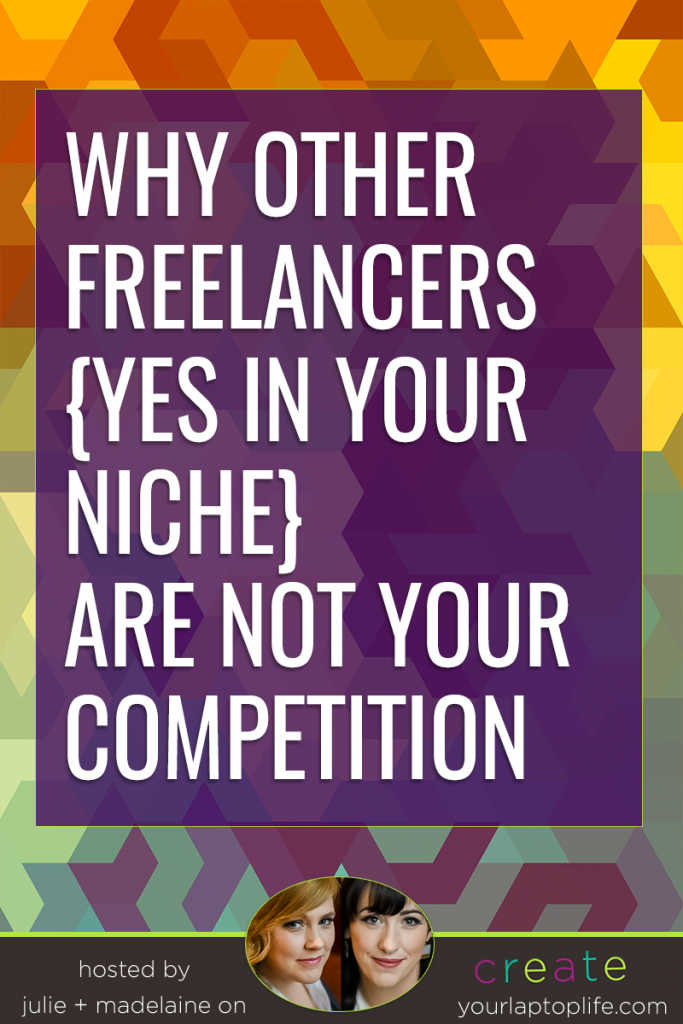 Two is better than one…
Take a freelancer you are jealous of (and one that you admire too). Imagine that they are not your competition, but your friend. Start sharing their content. Connect with them on social media. Celebrate what they offer to the world– hell, even learn from them. What is going to happen?
Do you think it will make you a worse biz owner? Do you think you sharing their content with your smaller audience will make your biz fail? It will not. It will only serve to help you…because the people who follow you will start to trust you. They'll know that you share good information, no matter the source. You're building your credibility. Chances are, the "other" freelancer will take notice of your camaraderie and reach out. After all, how do you think they got such a following in the first place?
Treat your for former biz "competitor" as a friend and watch what will happen…
You'll learn from someone who's further along than you
You'll likely make a connection with that person
You'll get to know their biz well enough to discover what unique aspect you bring to yours that keeps you both separate but equal
You may find that he/she shares your content and helps you develop your own following
You associate with successful people and usually the result is more success yourself
Stop worrying, start connecting, focus in on what you do well, share other content from freelancers who are better, smarter, and faster. See them as humans who might just one day be your friend and colleague.
I'll bank my success on the fact that you won't end up in freelance bankruptcy.